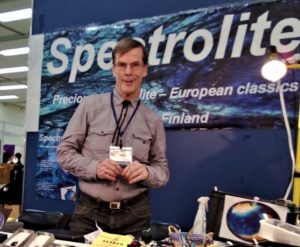 Vendor name

Spectrolite Finland Ltd.

Show

Pueblo Gem & Mineral Show

Dates

January 26 - February 7, 2023

Hours

10:00 A.M. to 6:00 P.M.

Booth number

C3

Products

Spectrolite

Address

Spectrolite Finland Ltd., Rinteläntie 4, 54410 Lappeenranta, Finland

Name

esko.hamalainen

Phone

358 400 391590

Email

spectrolite.finland@gmail.com

Website

https://www.spectrolite.fi/

Description

Spectrolite is a hard and rare variety of labradorite. It is known for the strong characteristics and the charming iridescence of spectrum colors. The colors include all the colors of the spectrum; mostly blue, green, yellow and purple often referred as Northern Lights, Aurora, Rainbow, and Butterfly wings.

The highest quality as we have is widely used for jewelry and other products all over the world.
Floor plan
You can open the image in a new tab.