Indian Touch of Gallup is one of the regular members of the Tucson gem show. They have a variety of Native American jewelry.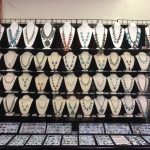 About Indian Touch of Gallup
| | |
| --- | --- |
| Show | JOGS Tucson Gem & Jewelry Show |
| Address | Tucson Expo Center, 3750 E. Irvington Rd., Tucson, Arizona 85714, United States |
| Booth | W723, W724, W725, W726 |
| Type of merchandise | Native American jewelry and gifts, turquoise and knives. |
| Payment methods | Cash, Check |
| Office | 105 West Hwy 66 Gallup, NM 87301, USA |
| Phone | 505-722-6807 |
| Website | https://www.indiantouchofgallup.net/ |
| Comment from the vendor | We deal with Native American jewelry, authentic turquoise jewelry, and designer jewelry. Our products made by some of the famous Native American jewelry designers, Alex Sanchez, Alvin Begay, Betta Lee, and Ben Livingston. Please stop by and see our beautiful  Native American jewelry. Thank you. |
Customer review of Indian Touch of Gallup
Review
Jessica:06/21/2019
Belt buckle shopping Indian Touch Of Gallup. It was a cool buckle!
---
BG:03/09/2019
They are regular members of the show. Their products are authentic, beautiful, and affordable. I always enjoy talking with them:)
We are waiting for your review of this vendor. You can post your review from the button below. Please post your review with your name, email (it will never be published), and review title. We will publish your review after verification.
Photos