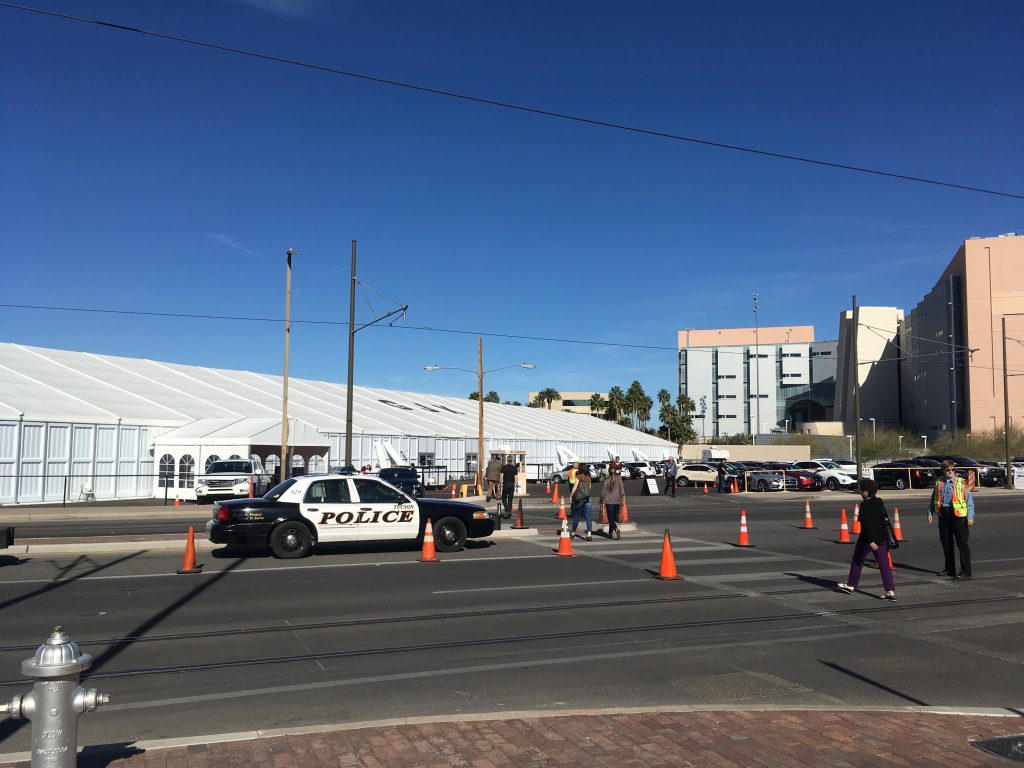 Information for the GJX Gem & Jewelry Show
Show dates
February 1 - February 6, 2022
Hours
10:00 A.M. – 6:00 P.M.
Address
GJX Pavilion
198 S. Granada Ave,
Tucson, Arizona 85701
Sponsor
GJX
Phone
520-882-4200
Email
info@gjxusa.com
Admission
Free
Open to
Wholesale only

Free to qualified buyers
(plus 1 free guest & additional 3 guests

at $35 each – Maximum 4 guests/company)

Registration
GJX
Wholesale Credentials Required
Copy of Tax ID, EIN or Business license
Type of merchandise
Diamonds, Fine Jewelry, Minerals,

Gemstone, Gold, Lapidary,

Rockhound equipment

It takes time to see all
Three hours (estimated)
Parking fees
$10/day (at TCC)
Foods
Yes
Restrooms
Yes
Handicap accessible
Yes
Application for exhibitors
EXHIBITOR PORTAL
Facebook
GJX – Gem & Jewelry Exchange
Description
It can be said that GJX Gem & Jewelry Show is the main show of the first half of the Tucson show. There will be nearly 500 vendors in the huge tent.
The number of vendors are increasing every year. You can find Diamonds, Gold, Fine Jewelry, Colored gemstone, high-quality minerals, Amber, Opals, Sterling Silver Jewelry, Loose stone, and Arizona turquoises.
On the first day, registration and parking lots will be crowded. Please make sure to give yourself plenty of time.
Photos
Customer reviews of this show
4 out of 5 stars (based on 1 review)
For sure this show is the most famous show in the Tucson show. I couldn't see all the booths because there were so many booths and buyers. I visited there on the morning of the first day, it was very crowded, but I purchased good minerals. I recommend you should do a pre-registration. I think that the number of vendors and buyers are increasing each year. It is really a huge show!
Post your review
We are waiting for your review of this show. You can post your review from the button below.
Please post your review with your name, email (it will never be published), and review title. We will publish your review after verification.