Spectrolite Finland will bring unique and rare labradorites. You can see raw Spectrolite and some jewelry of Spectrolite. The owner comes to desert city from icy country Finland every year.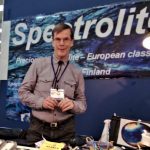 About Spectrolite Finland
Show

Pueblo Gem & Mineral Show

Address

Ramada Tucson Conference Center (formerly River Park Inn), 777 W. Cushing Street, Tucson, Arizona 85745, United States

Booth

C-3 (near Oasis bar)

Type of merchandise

Spectrolite (Labradorite)

Payment methods

Cash

Office

Rintelantie 4, 54410 Ylamaa, Finland

Phone

+358400391590

Website

https://www.spectrolite.fi/

Comment from the vendor

Spectrolite is a hard and rare variety of labradorite. It is known for the strong characteristics and the charming iridescence of spectrum colors. The colors include all the colors of the spectrum; mostly blue, green, yellow and purple often referred as Northern Lights, Aurora, Rainbow, and Butterfly wings.

The highest quality as we have is widely used for jewelry and other products all over the world.
Customer review of Spectrolite Finland
Review
Matt:02/13/2019
I have met Esko two times. He took me on a tour of the Spectrolite quarry and the museum and I have been to his rock show before. He is a very generous man. He is a world traveler and he is passionate about geology and life. Thank you Esko! (from his Facebook)
---
Spencer:02/27/2019
This is the best shop of Labradorite. He is a trustworthy seller in the show.
We are waiting for your review of this vendor. You can post your review from the button below. Please post your review with your name, email (it will never be published), and review title. We will publish your review after verification.
Photos