Piedras del Mundo is one of the famous shops in the Tucson and Denver show. Their Emeralds and Crystal are so beautiful and affordable.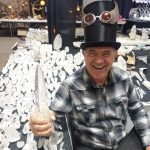 About Piedras del Mundo
Show

Tucson: Main Avenue Fossil & Mineral Show

Denver: JG&M Expo (Sep 10-18, 2021)

Address

JG&M tent, 3300 E. Michigan St., Tucson, Arizona

Clarion Hotel Denver Central, 200 W 48th Ave, Denver, Colorado

Booth

Tucson: Tent 16

Denver: 124

Type of merchandise

Colombia Crystal, Emeralds, Jewelry

Payment methods

Cash, Check, Credit card (ASK)

Office

Cra. 6 # 12-79 L-113, BOGOTÁ, COLOMBIA

Phone

+57 3138895094

Website

Piedras del Mundo

Instagram

piedrasdelmundo

Comment from the vendor

Piedras del Mundo will go to the Tucson gem show and the Denver show 2020 (Booth 124). Probably, we will go to the Tokyo show in December. We have so many high-quality Emeralds and Crystals from Colombia.
Customer review of Piedras del Mundo
Review
Taka:02/14/2020
I purchase a great Colombia crystal every time. Their Emeralds also high quality.
We are waiting for your review of this vendor. You can post your review from the button below. Please post your review with your name, email (it will never be published), and review title. We will publish your review after verification.
Photos
Coupon
Piedras del Mundo offers you a special discount! You can receive 5% off any purchase. Please show this page when check.