SM cristals come from Minas Gerais, Brazil. They have so many beautiful minerals, rocks, carvings. This company is one of the best vendors amongst Brazilian companies.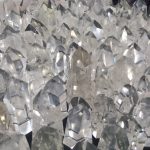 About SM cristals
| | |
| --- | --- |
| Show | GIGM Globex Gem & Mineral Show |
| Address | Red Lion Inn & Suite, 222 S. Freeway Rd., Tucson, Arizona 85745, United States |
| Booth | 34 |
| Type of merchandise | Crystals, Amethyst, Carving, Spheres |
| Payment methods | Cash |
| Address | Rua Eliezer da Mata Lopes, 800-Bairro Maciel, Corinto, MG, Brasil |
| Phone | +55-38-9-9969-8716 |
| Website | – |
| Comment from the vendor | Hi there. We are excited to join the Tucson gem show again! We bring a variety of high-quality minerals, new minerals, tons of rocks from Minas Gerais, Brazil. Please stop by our booth. See you then. |
Customer review of SM cristals
Review
NS:02/01/2019
I purchased some of the Lemurian crystals in 2019. They gave me a special offer when I was checking:) I was really happy to meet them. I'll visit next year. They were a really good vendor!
---
TK:03/09/2019
They are nice people! Their crystals are very clear and special quality. This is the best Brazilian vendor.
We are waiting for your review of this vendor. You can post your review from the button below. Please post your review with your name, email (it will never be published), and review title. We will publish your review after verification.
Photos